As an administrator or owner of the BigBlueButtonBN room/activity you can customize your participants list.

By default, the BigBlueButtonBN room/activity sets participants to the above configuration. All users enrolled in the course are set to enter as viewers and the owner is set to enter as a moderator.
Participants can be added to the room/activity based on their assigned roles in Moodle or by an individual enrolled user.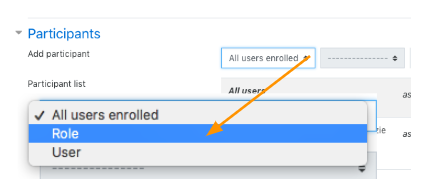 To add participants based on their assigned roles in Moodle, first select roles from the participants drop down.

Next, select a specific assigned role you'd like to add to the BigBlueButtonBN room/activity, then select add.
When adding users, only individuals who have been enrolled in the Moodle course will appear in the drop down list.
IMPORTANT: Each role may have varying conference permissions based on how they have been configured in Moodle by the course administrator when created.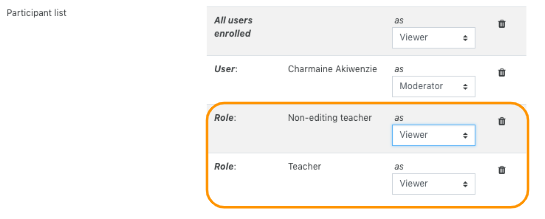 All added users appear under the owner of the activity in the participants list. The BigBlueButtonBN room/activity sets participants added to the list as viewers by default.

To change how users enter the BigBlueButtonBN conference, select the enter as drop down. Participants can enter as either viewers or moderators.
Viewers are limited within the BigBlueButton conference while moderators are enabled with full functionality.

To delete a user added to the participants list, select the trash can icon.