Once you have created a BigBlueButtonBN Room/Activity you can access additional common module settings: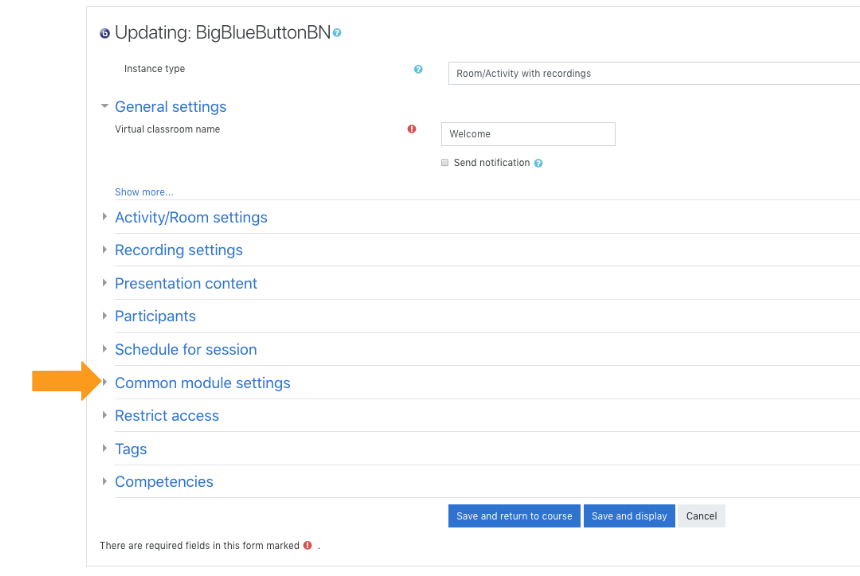 The common module settings allow you to:
Set room/activity availability
Set an ID number
Enable group modes
Enable grouping
Setting the availability of a room/activity

If the availability of a BigBlueButtonBN room/activity is set to show on course page, the room/activity or resource is available to students (subject to any access restrictions which may be set).

If the availability is set to hide from students, the room/activity or resource is only available to users with permission to view hidden activities.
Users with the role of teacher and non-editing teacher are given permission by default.
Setting an ID number
Setting an ID number provides a way to identify a specific room/activity or resource for purposes such as grading or custom reporting.

For gradable activities, the ID number can also be set in the gradebook, however, can only be edited on the activity settings page.
This field may be left blank otherwise.
Enabling group modes
Group modes is defined at the course level and is the default mode for all activities within the course.
Each activity that supports groups can also define its own group mode, however, if the group mode is forced at the course level, the group mode setting for each activity is ignored.
There are three modes within the group modes:

No groups

When groups are enabled and set to separate groups each group member works in their own group. Other groups are not visible.

When groups are enabled and set to visible groups, each group member works in their own group, but can also see other groups.
Enabling grouping
Grouping is a collection of groups within a course.

When enabled, students assigned to groups within grouping will be able to work together.
For more information about how groups and grouping works, see this article.