This article covers the new features in BigBlueButton 2.5 released in August 2022.
These features cover usability improvements (such as changing time in breakout rooms), engagement improvements (such as allowing multiple responses to polls), and analytics improvements (such as the new timeline view for the Learning Analytics Dashboard).
Note: In BigBlueButton, the teacher has the role of moderator and students have the role of viewer.
Usability Improvements
Screenshot of the current slide with annotations
To capture the current slide with annotations, you can now have BigBlueButton download a PNG image of the current slide by choosing "Snapshot of current presentation".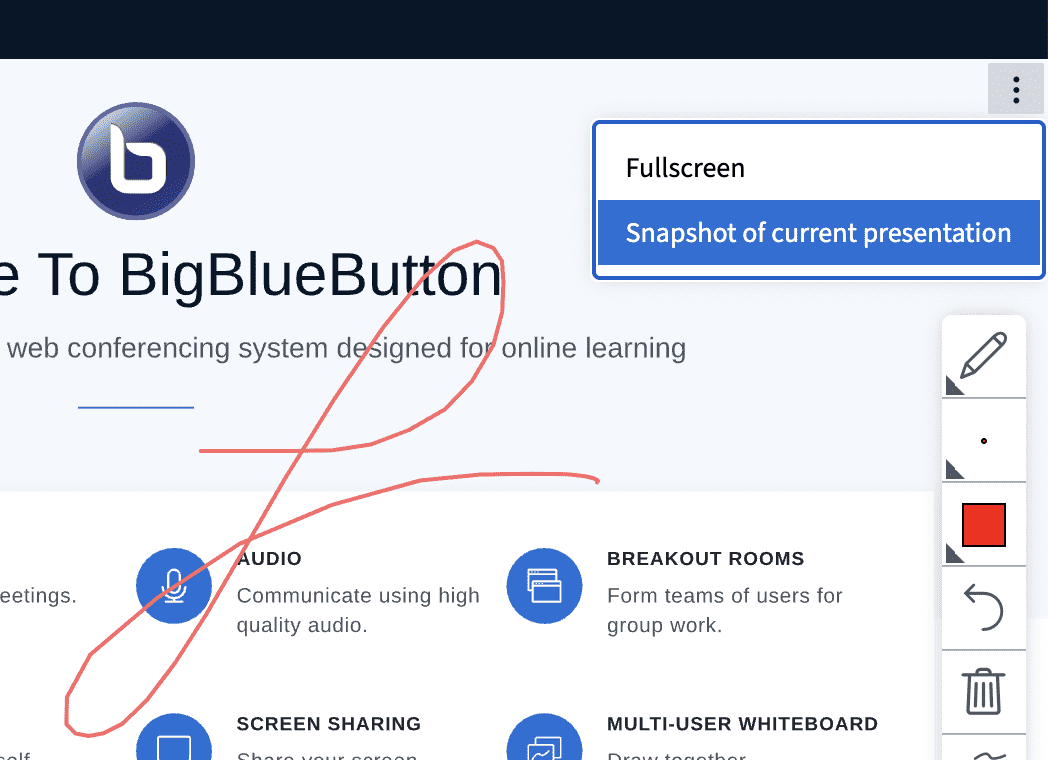 Easier setup of breakout rooms
Breakout rooms remember your previous room assignments within the current session. This lets you re-use the existing breakout rooms.
Change the time of breakout rooms
You can now easily change the duration of a breakout room to a new time.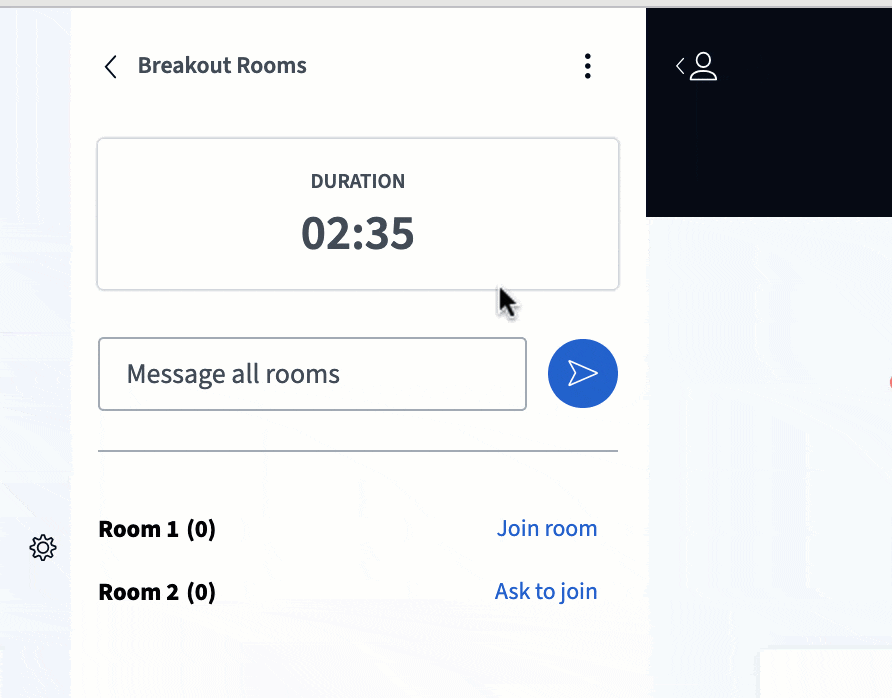 When you change the duration of breakout rooms, BigBlueButton will notify each breakout room in the public chat of the new duration.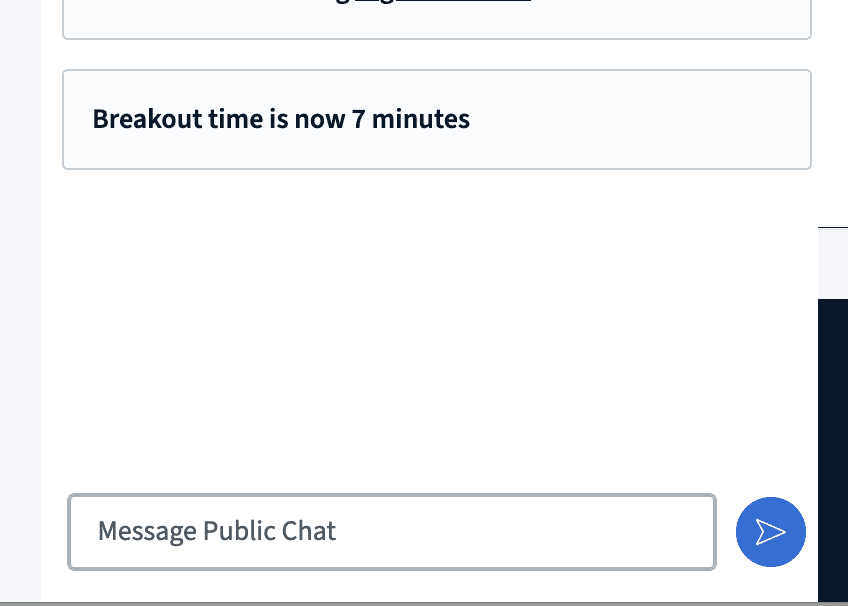 Webcam pinning
You can now pin a webcam so it always stays visible. This is useful if one of the webcams shows sign language, for example, and you always want it to be visible.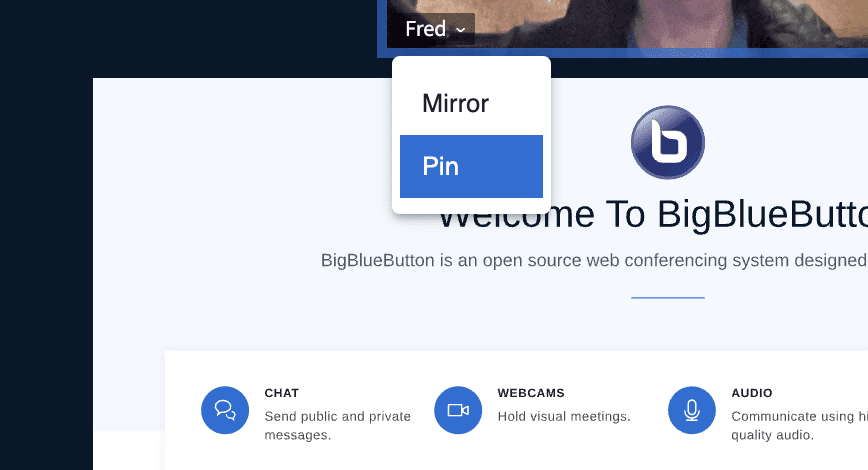 Engagement
Text message broadcasting to breakout rooms
You can now broadcast a text message to all breakout rooms. This message will appear in the public chat of each breakout room.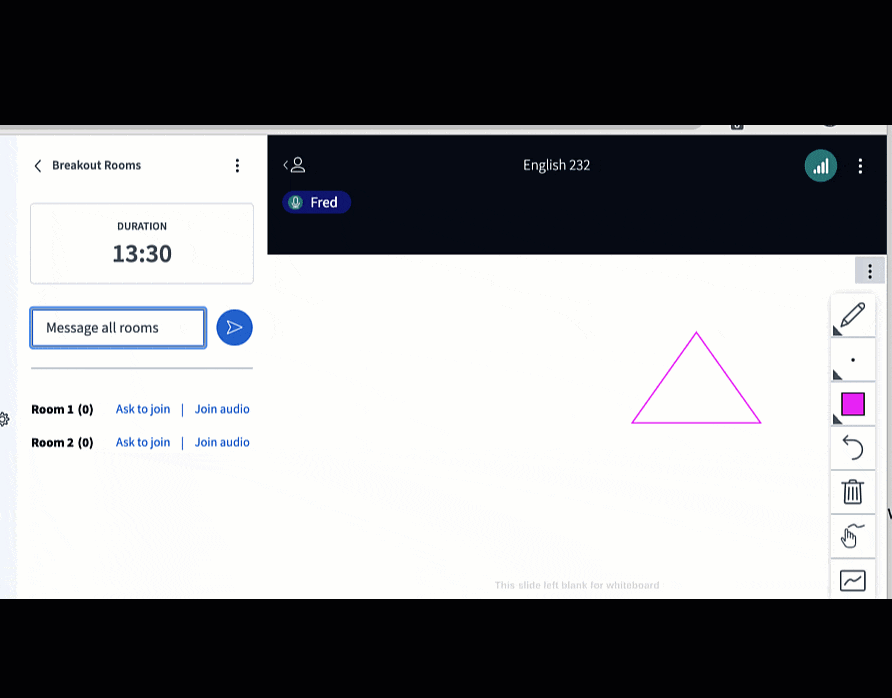 Polling support for multiple answers per question
The Moderator can choose the option 'Allow multiple answers' which will enable the viewers to select multiple responses to polls
Presenter View Student View
New Lock Setting - See other viewers cursors
When Locked, students can not see each other's mouse on the multi-user whiteboard.
This enables the moderator to ask questions such as "Where is Spain?", enable multi-user whiteboard, and easily see how many students give the correct answer with their mouse pointer.

In the above screenshot, the teacher sees all the mouse cursors, but students would only see their own cursors.
Analytics
Learning Analytics Dashboard improvements: Timeline view
The Timeline View shows a thumbnail of the current slide and provides a visual representation of when users joined along with any emojis -- such as raise hands.
It shows exactly when the student shared emojis (including raise hand).


Individual Scorecard
Each student has an activity score (such as 4 out of 10). To see how the activity score is calculated, click the student's name (shown as underlined)
and BigBlueButton shows a scorecard of how the activity score was calculated (in the screenshot below the activity score is 4).
Download data from Learning Analytics Dashboard
Moderators can click Download Session Data to download a .csv file of data from the Learning Analytics Dashboard (including attendance). The .csv file can be opened in Excel, Numbers, Google Sheets, and anything that can read a comma-separated file.